Consistent with the National Preparedness Goal to "Conduct tactical counterterrorism operations in multiple locations and in all environments" in the Prevention/Interdiction and Disruption Mission Area, Eagle has developed a 40-hour course that emphasizes advanced tactics, techniques, and procedures (TTP) to counter the "Paris or Mumbai-Style" terrorist assault threat. The course is oriented towards patrol officers who learn how to leverage SWAT and small unit military tactics based on the rapid deployment Contact Team concept to stop violent deadly behavior. Throughout the week, officers are exposed to TTP in the classroom; skill drills; and engage in force-on-force/scenario-based practical applications using contractor-provided training weapons and safety equipment.  Course content includes combat mindset; case studies; planning considerations; management of department resources; interior and exterior tactics; bounding overwatch; rescue and care under fire; counter-sniper; IEDs and suicide bombers. Class size is limited to 20 fulltime officers who are compliant with department physical standards. Training may be either by mobile training team at the department's location or at a designated training facility.  Students who successfully complete instruction will be provided a certificate of attendance with syllabus that can be used by departmental training managers to determine office qualifications.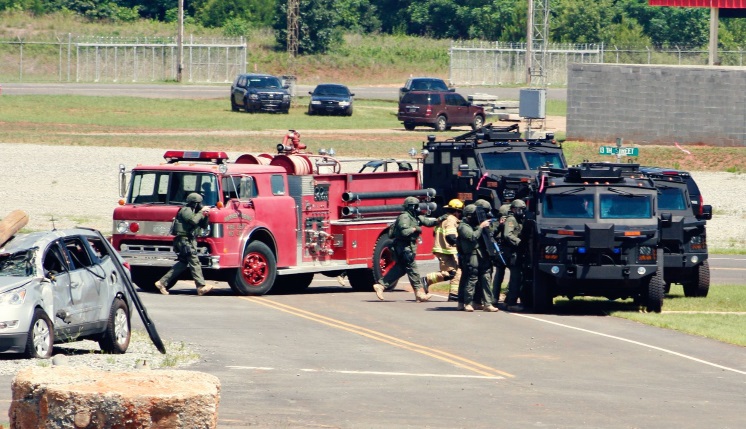 INSTRUCTIONAL STAFF
Eagle's instructor cadre consists of veteran trainers from state, local, and Federal law enforcement with patrol, active shooter, SWAT, hostage rescue, explosives, and military small unit subject matter expertise. The course entails a 4:1 student-instructor ratio to ensure appropriate attention is given to individual students.
COURSE CERTIFICATION
The SAFETY Act provides important legal liability protections for providers of Qualified Anti-Terrorism Technologies – whether they are products or services. On December 16, 2014 Eagle's MACTAC course received DHS SAFETY Act certification as an approved anti-terrorism technology.
COURSE FUNDING
On September 17, 2014, Eagle's MACTAC Course was approved for inclusion in FEMA's National Training and Education Division's (NTED) State/Federally Sponsored Course Catalog.  Until now, there was no State or Federal approved mechanism for obtaining funds to receive this type of training.  With a MACTAC course now in NTED's catalog, this means that law enforcement agencies have a funding source using Homeland Security Grant Program (HSGP) monies.
All NTED courses (including MACTAC) must be authorized through the State/Territory Agency Training Point of Contact (SAA TPOC).  The SAA TPOCs for each State can be found at the following link at FEMA's first responder training website.